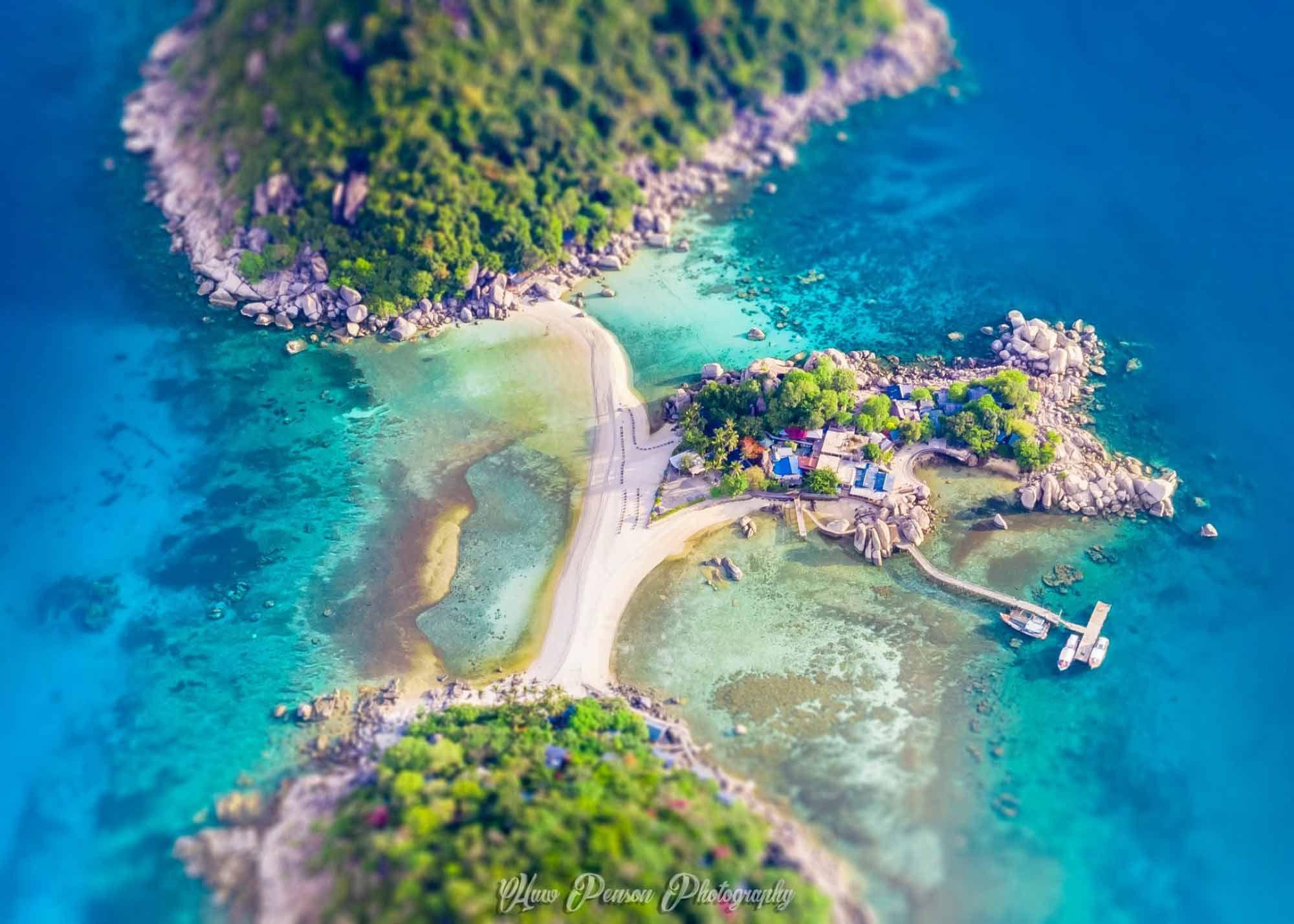 Best beaches on Koh Tao

What do you think about when someone mentions a holiday on a tropical island? For most of us it is beautiful beaches with warm turquoise water to play in. Small beach bars providing much needed refreshments and romantic dinners looking at the sunset. Some are looking for great snorkeling or kayaking and others are in to more adrenaline filled watersports like wakeboarding. Whatever your preference of activities is, it is very likely that it will take you to the beach!
Enjoy 360 degree views of Koh Tao by moving this picture.
We have listed six of our favorite beaches on Koh Tao. There are options for those who look for activities and those who are looking for relaxing or maybe even a completely secluded options. One great way to explore many beaches and snorkeling around them in one day is a full boat day trip with a traditional long tail boat. Most of the beaches are accessible with a motorbike too if you are comfortable driving one and some of them make a pretty nice hike too!
Sairee Beach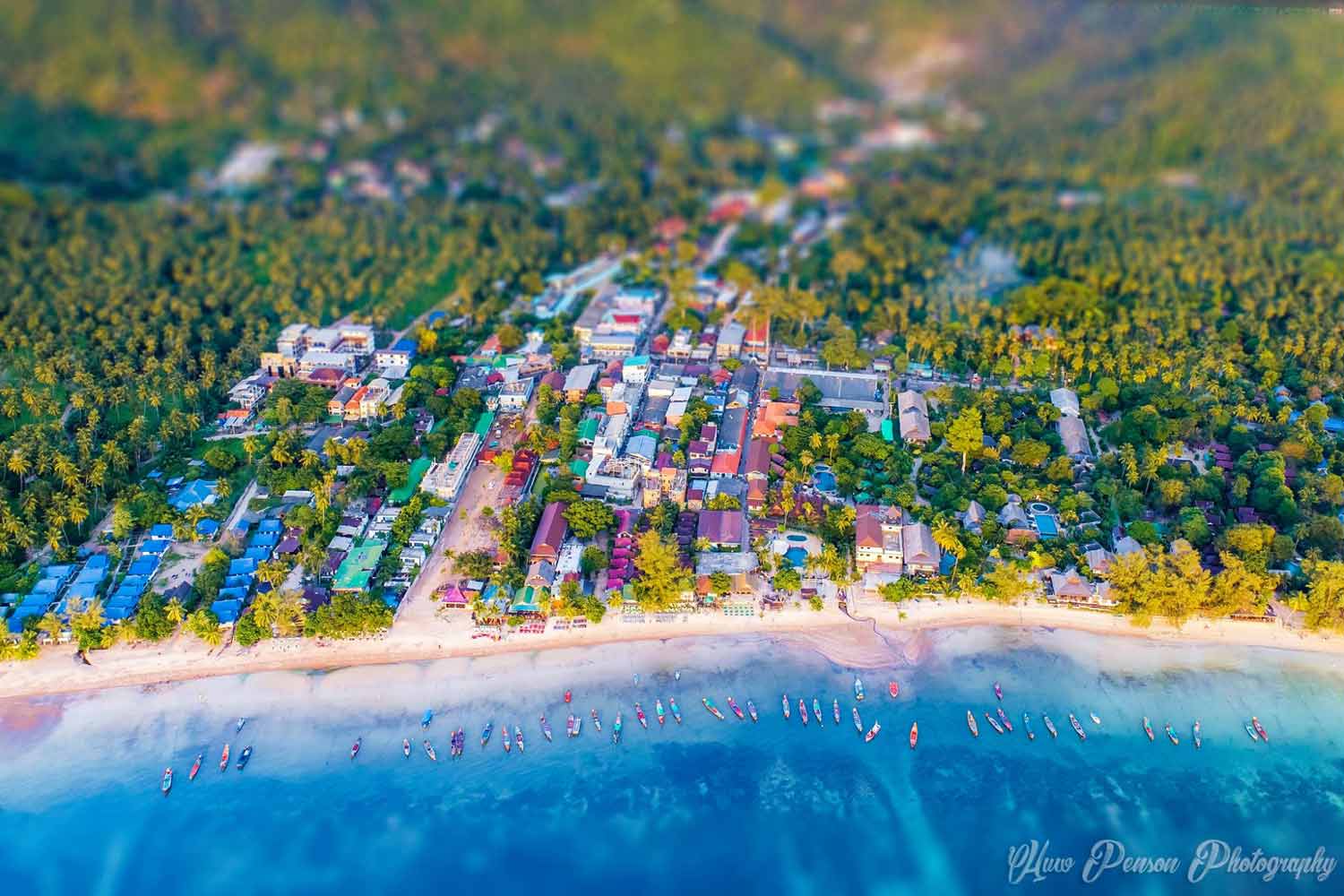 The main beach of Koh Tao and the center of the action, where also we are located. The longest beach of Koh Tao stretches almost 1.9 kilometers up the west coast of the island. It is a very practical place to stay for those not comfortable driving a motorbike since all the services, restaurants, bars and activities are available in a walking distance. Sairee beach is the easiest to access on Koh Tao, just a short walk from the Maehaad pier.

On Sairee you can take long relaxed beach walks, rent a kayak or a paddle board, try wakeboarding, go snorkeling, have a delicious dinner on the beach, party all night or enjoy sunset drinks at Maya Beach Club listening fine island tunes. Just to mention a few! For more relaxed experience we recommend staying on the southern end of the beach, since the center can be noisy during the night.
Thian Og Bay (Shark Bay)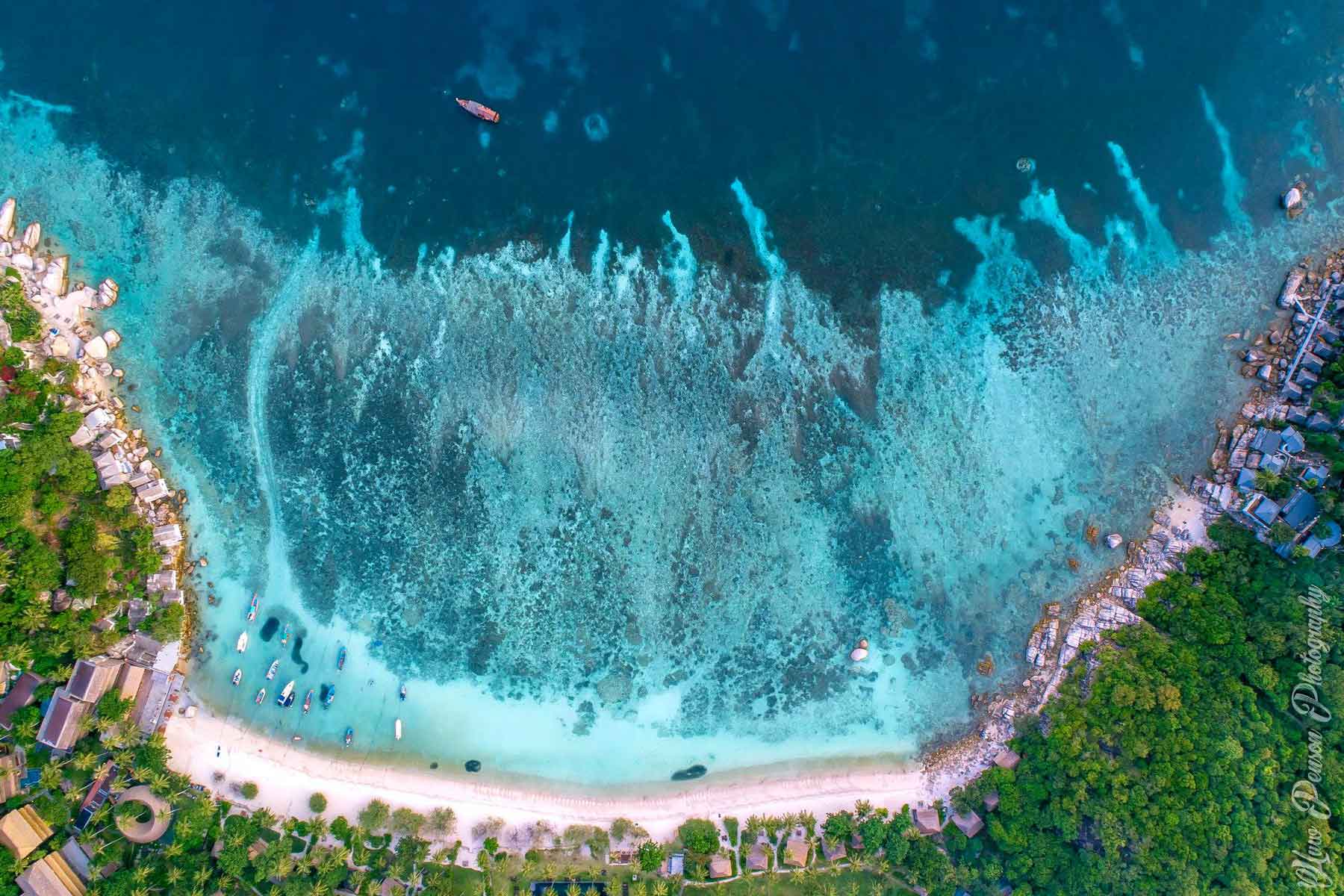 This is the hotspot for spotting black tip reef sharks while snorkeling. The beach itself is beautiful as well with its fine white sand and turquoise water. Shark bay is located inside Haad Thien resort. The drive to the resort is fairly easy and you can park at the resort parking and enter through the resort for a small fee.

If you wish to do some shark spotting only we highly recommend entering the water through OK 2 resort. No beach there, but free entrance for those, who are only interested in snorkeling.
Sai Daeng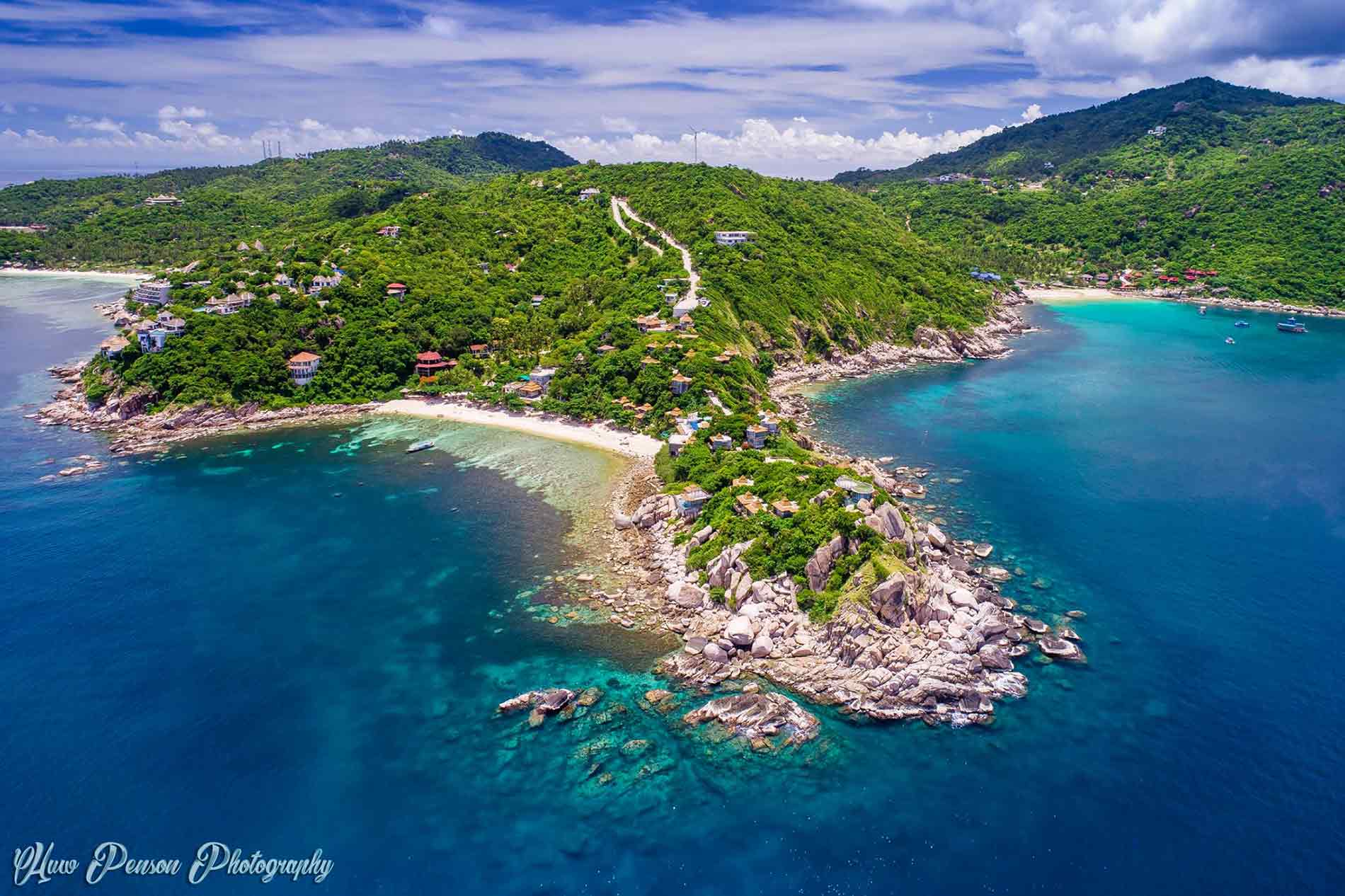 The hidden gem of south end of Koh Tao. It is located between Shark Bay and Aow Leuk Sai Daeng and has no entrance fee. If you enjoy snorkeling, you can often meet turtles and small sharks. The beach is pretty much perfect place to chill out doing absolutely nothing while enjoying a fruit shake or a cold beer. There are also some rental kayaks available for those who prefer more active beach day and want to explore the coast line or Shark Island.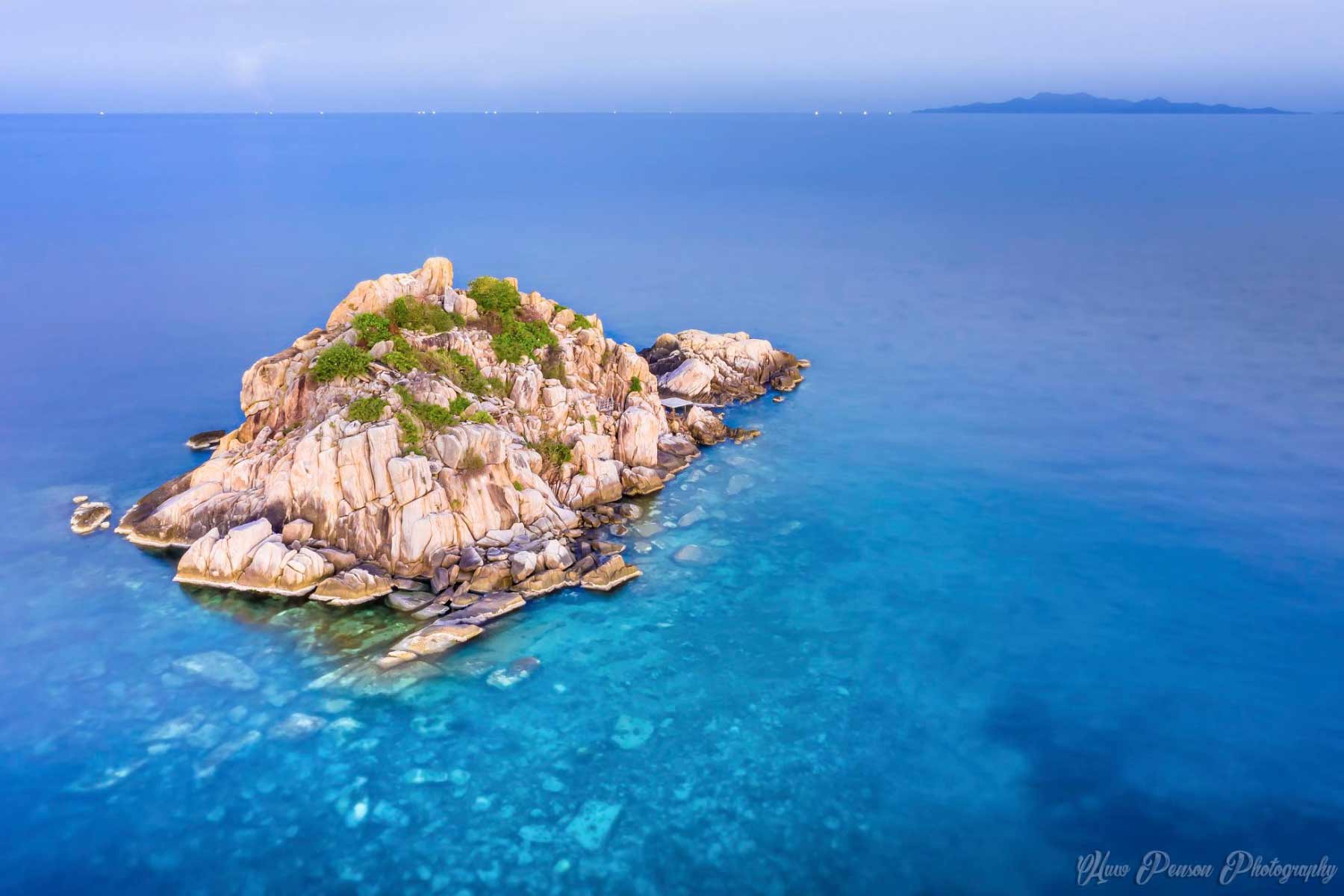 The route leading to Sai Daeng is very scenic too. The views change from coconut plantations to stunning ocean scenery. The road is in good condition, but the hills are quite steep, so driving is recommended only for those, who are at least quite comfortable on two wheels. The route makes a nice hike for those looking for a bit of exercise too!
Aow Leuk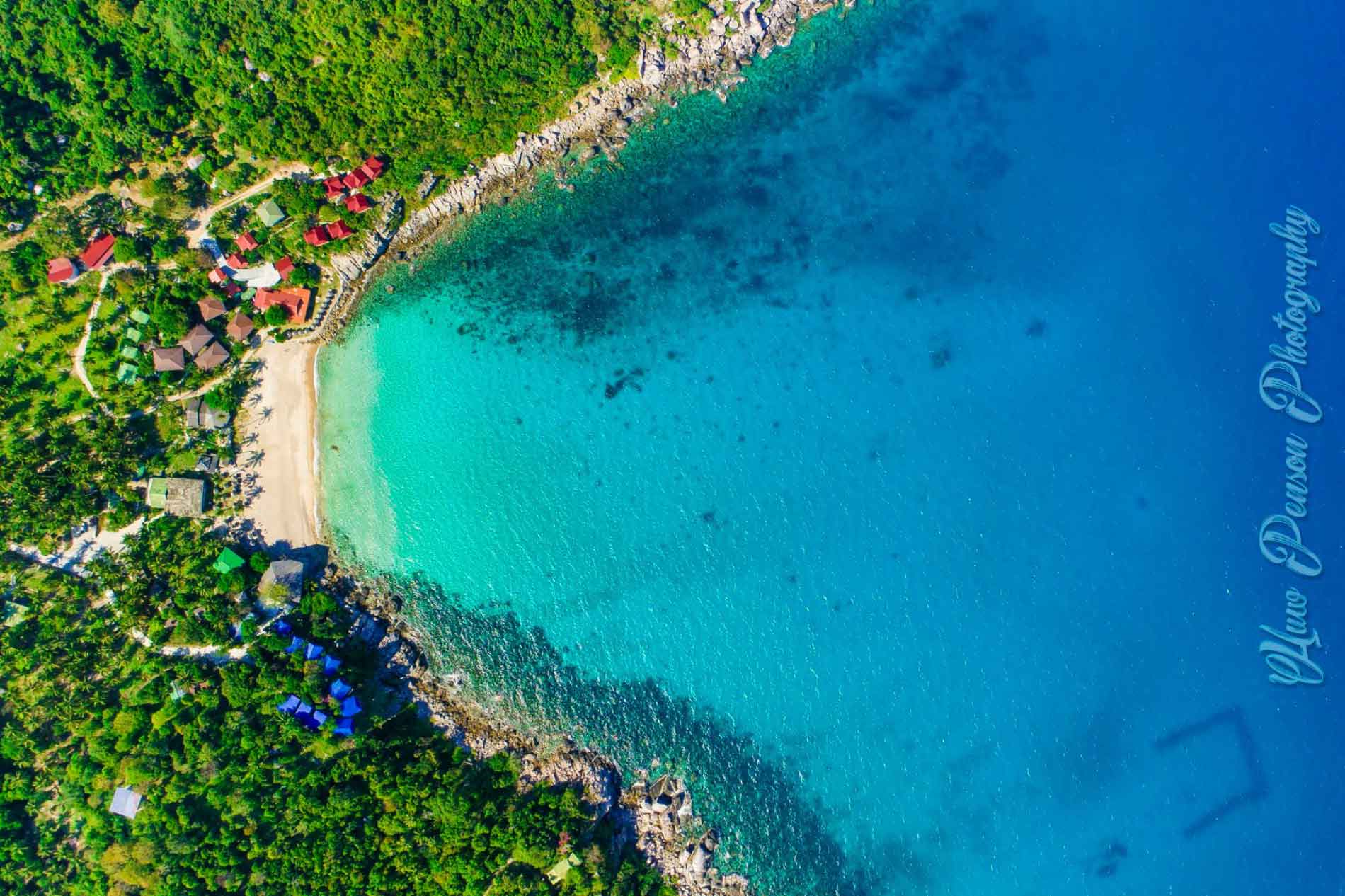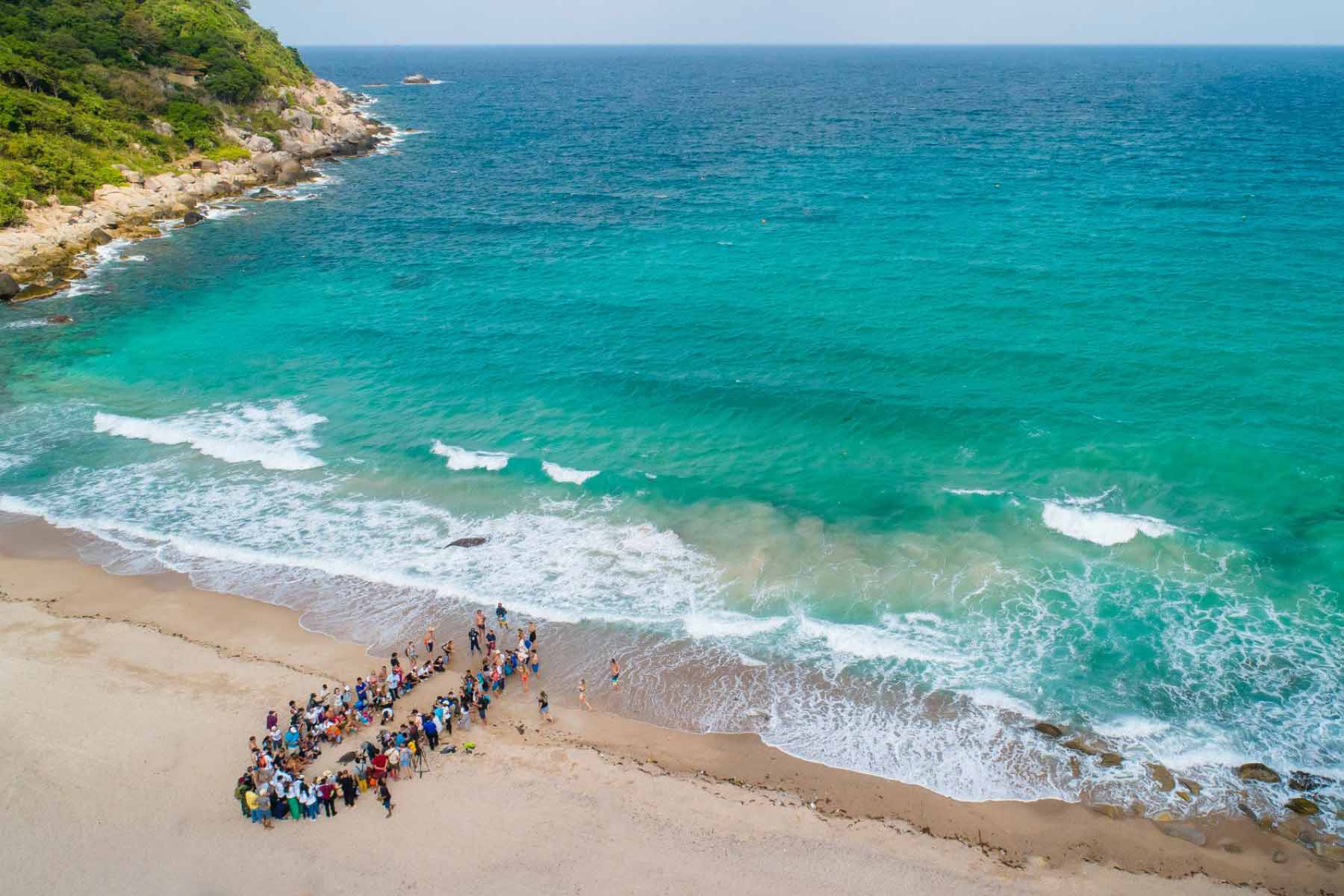 Aow Leuk is a beautiful bay with few small resorts and restaurants. It also offers some of the best snorkeling on the island with coral reefs on both sides of the bay starting from fairly shallow waters. The reefs are rich with marine life and during spring time you might get lucky to spot some baby reef sharks too! The entrance to this beach is through private land and there is a 100 THB entrance fee.

Drive to the beach is not too bad and should be doable by those who have trusted their skills enough to rent a bike on a first place. Keep your eyes peeled on the right side of the road after you have passed The Earth House and a power plant not to miss the Aow Leuk sign and the last turn!
Tanote Bay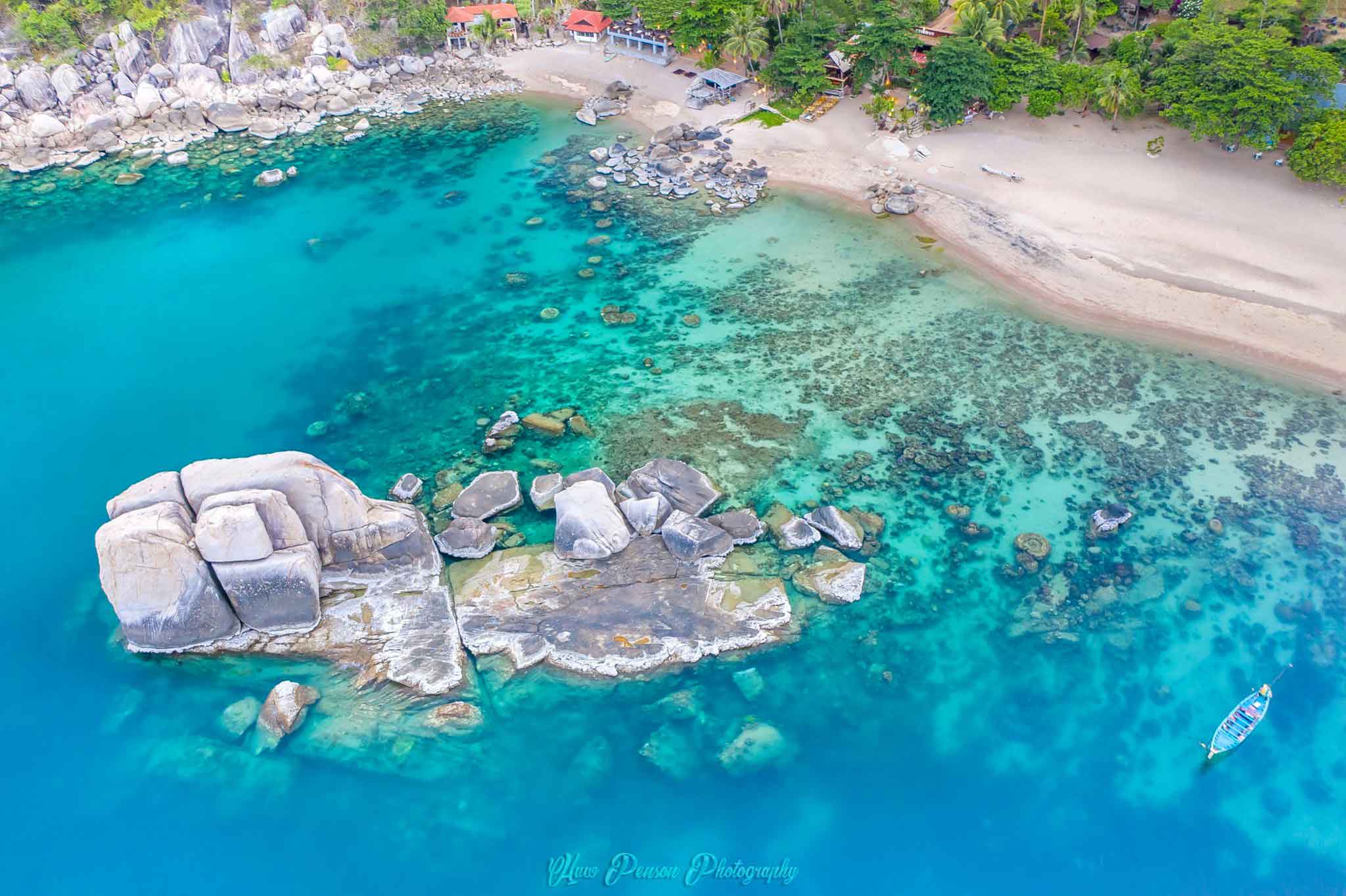 Located in the middle of the east coast of Koh Tao is quiet but does have few restaurants serving the hungry beach goers. It is probably most well-known of the giant rock in the middle of the bay. There is a permanent rope attached to it for visitors to climb up for an adrenaline pumping cliff jump. The views on top of the rock are pretty stunning too, just remember before climbing up that you do need to jump down too! Snorkeling at Tanote is pretty spectacular too, so do not forget to bring a mask along with you!

The walk from Sairee beach to Tanote takes about 1,5 to 2 hours, so it is easiest to access by motorbike, taxi or a taxi boat. The road to Tanote bay was fixed quite recently but the hills are still steep, so recommended to comfortable drivers only.

Laem Thien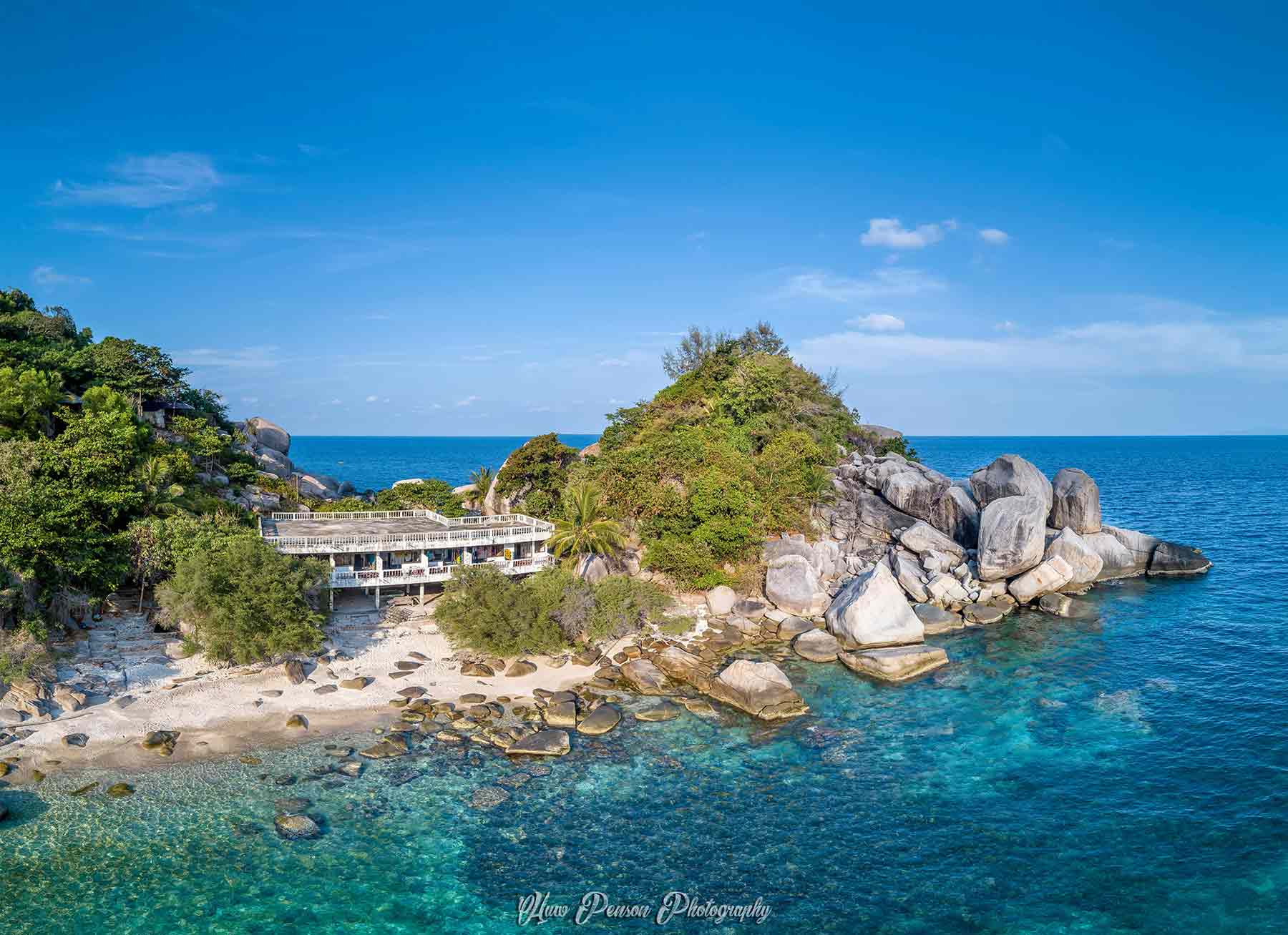 Ao Laem Thien is one of the most secluded beaches on Koh Tao. It is only accessible by a boat or hiking through the jungle. It is great spot for snorkeling and freediving through the underwater swim-throughs.

What makes the place special is the resort over there, that has been abandoned for more than a decade. It is still fully intact and makes a great but slightly spooky place to explore! Remember to bring lots of drinking water and maybe some snacks with you. The nearest services and shops are about an hour hike away!
Did your favorite make it to the list?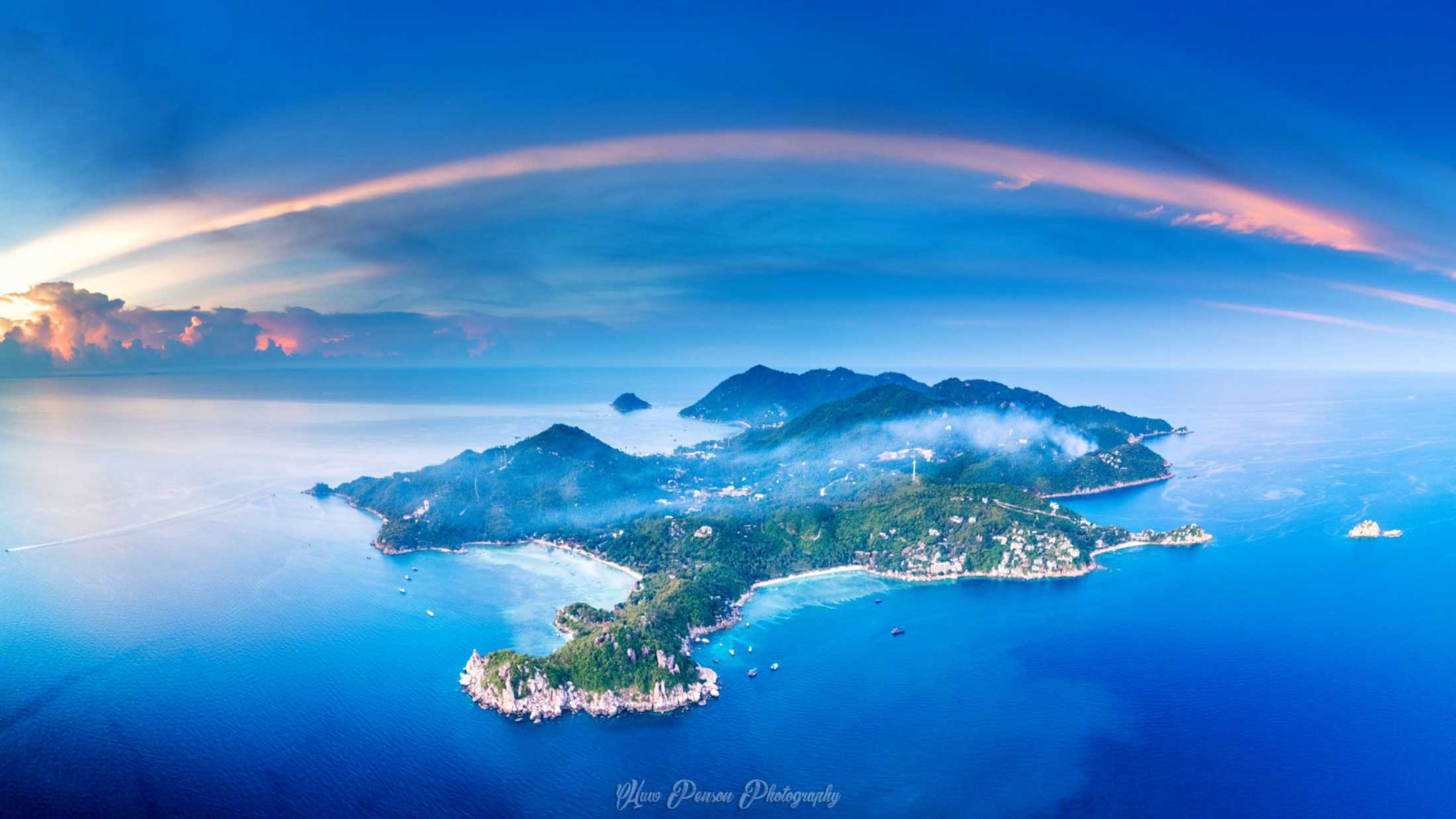 Credits for these amazing pictures belongs to talented photographer Huw Penson. More of these beautiful shots can be found from Koh Tao Drone Facebook and Instagram.
Welcome to Koh Tao!
---