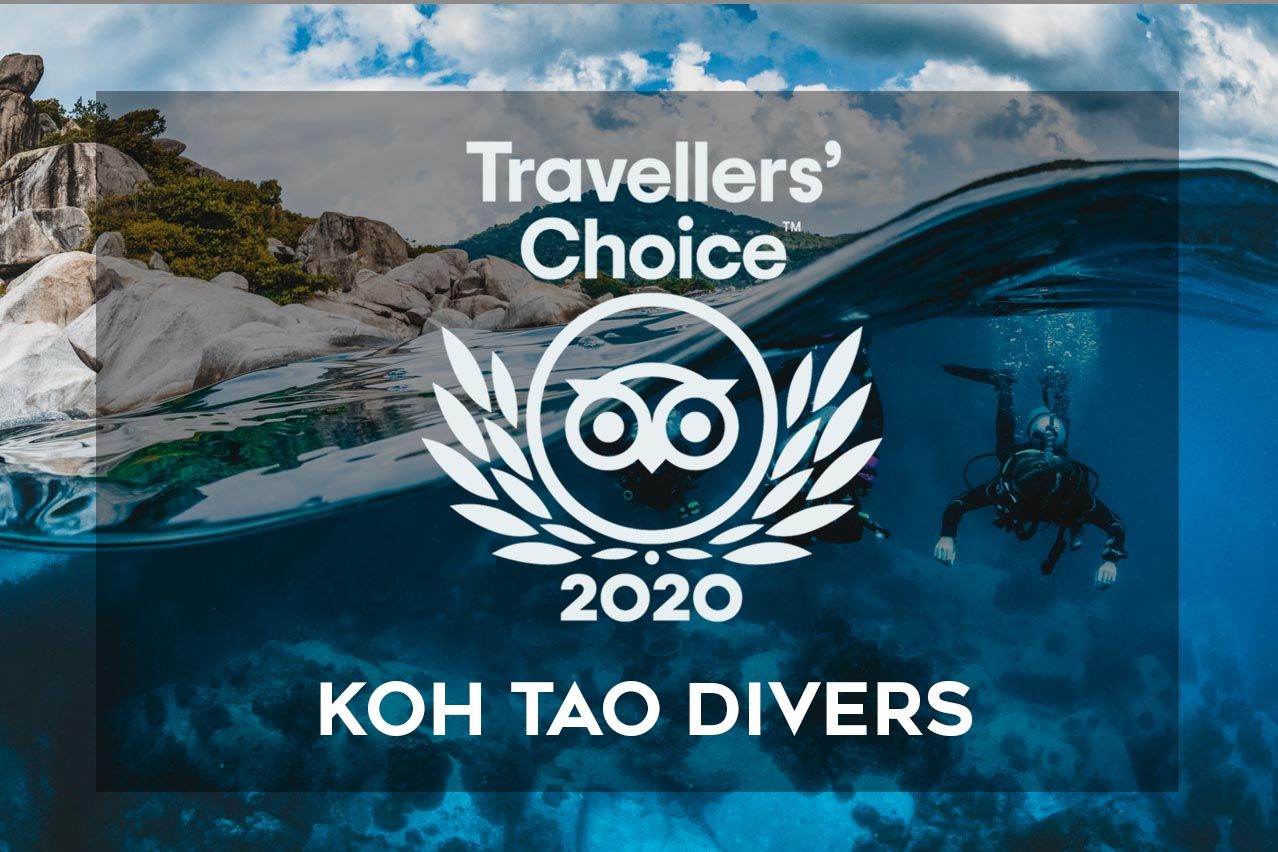 Koh Tao Divers Wins 2020 Tripadvisor Travelers' Choice Award
Koh Tao Divers Recognized Among Best in Thailand, Based on Outstanding Traveler Reviews.
Thailand 20.08.2020 – Koh Tao Divers today announced it has been recognized as a 2020 Travelers' Choice award-winner for activities in Thailand. Based on a full year of Tripadvisor reviews, prior to any changes caused by the pandemic, award winners are known for consistently receiving great traveler feedback, placing them in the top 10% of hospitality businesses around the globe.
"Especially in the times of uncertainty, this kind of news brings us lots of joy, and positive energy to push forward in the hard times. We want to say big thank for all our amazing staff and customers who supported us all these years. Without you all there would not be Koh Tao Divers, Thank you all for your support!"


If you havent yet reviewed us, we would be greatly thankful if you could show your support for us by spending few minutes to share your experience with with Koh Tao Divers on our Tripadvisor page.
"Winners of the 2020 Travelers' Choice Awards should be proud of this distinguished recognition," said Kanika Soni, Chief Commercial Officer at Tripadvisor. "Although it's been a challenging year for travel and hospitality, we want to celebrate our partners' achievements. Award winners are beloved for their exceptional service and quality. Not only are these winners well deserving, they are also a great source of inspiration for travelers as the world begins to venture out again."
About Koh Tao Divers
Get certified or boost your skills with the first dive center on Koh Tao, established over 30 years ago. Highly trained dive professionals and chilled-out vibe with unshakeable dedication to scuba diving. Join the pioneers of Koh Tao Diving! See our extensive courses selection page.
About Tripadvisor
Tripadvisor, the world's largest travel platform*, helps 463 million travelers each month** make every trip their best trip. Travelers across the globe use the Tripadvisor site and app to browse more than 860 million reviews and opinions of 8.7 million accommodations, restaurants, experiences, airlines and cruises. Whether planning or on a trip, travelers turn to Tripadvisor to compare low prices on hotels, flights and cruises, book popular tours and attractions, as well as reserve tables at great restaurants. Tripadvisor, the ultimate travel companion, is available in 49 markets and 28 languages.